Keep sickness at bay with these genius hand washing hacks that will get kids excited to wash their hands while making sure germs get killed.
Germs are an unwanted foe, especially when a pandemic is taking place like the coronavirus. We all know kids are not always the best at keeping their little hands clean. I swear my kids touch everything… the dirtier and germ-ier the better. So to keep my family safe and your family safe I put together these tips so we can all stay healthy.
Thank you for visiting. This post may contain affiliate links to recommended products at no extra cost to you. Read our Disclosures and Terms of Use. Don't miss out again, become a  Reader here <--it's FREE. 
SUGGESTED BOOKS:
Click photos: Affiliate links to more information on these books we love!
(Purchases through affiliate links earn us a small commission with no extra cost to you. See our Disclosure Policy here.)
Hacks to Get Kids to Wash Their Hands
Clever Motivation
This Hand Washing Hack by Mrs. Woods 3rd Grade Class is so easy and motivating! She stamps her student's hands and encourages them to wash the stamp off throughout the day. If they succeed, they get a prize.
You could easily set up these Reward Jars by Your Modern Family. This is similar to what we do in our house, except we use puff balls.
Time to Wash
In order to wash hands effectively, they must be washed for at least 20 seconds which can feel like an eternity in "kid time." To make sure they are washing long enough try these ideas:
Sing a Song
The alphabet has 26 letters, so get kids to sing the ABC's or another nursery rhyme.
Also, here is The Hand Washing Song by the CDC that is fun to sing and takes the right amount of time to get rid of germs.
Sand Timer
My kids love watching the sand fall in Sand Timers and it keeps them more engaged than a digital timer because there is something to watch. Before they wash, they flip the timer over and they know they are done when the sand is gone. I love this Sand Timer Set because it comes with a hand washing timer and teeth brushing timer.
Toy for Washing Hands (and teeth brushing)
Everything is fun when buttons and music are involved, so this Bathroom Musical Timer is perfect to get those hands (and teeth) clean! It lights up and plays music to make those 20 seconds fly by! I just ordered mine and can't wait to try it!
Keep the soap dispenser germ free, and hands clean with an adorable Hands Free Animal Soap Dispenser. They are so cute and easy to use. Simply put your hands underneath and soap comes out. The kids will love washing their hands every time!
Combat Germs with Knowledge
Teach kids about germs to help them join in the fight to keep themselves healthy. Often children don't realize they can have germs even if their hands look clean.
You can watch this Brain Pop Washing Hands Video, and try this activity to learn about How Germs Spread by Gift of Curiosity germs.
Then try this experiment to show kids how Germs are Repelled with Soap by Living Life and Learning.
If they still aren't getting the picture this Rotten Bread Experiment by Snotty Noses should do the trick.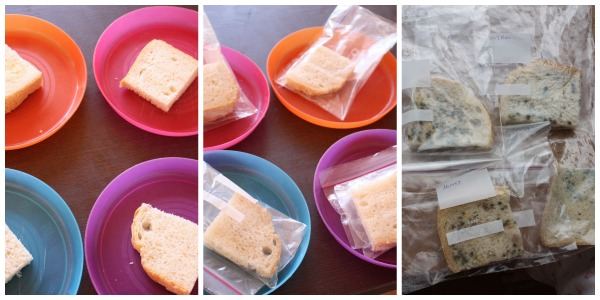 Make Soap Fun
Soap that looks fun to use will be used more than soap kids don't like to use. My kids enjoy foam pump soap bottles and will use them more than liquid soap.
I also love these homemade soap ideas. You can make your own soap that looks so pretty like these Gemstone Soaps by Happiness is Homemade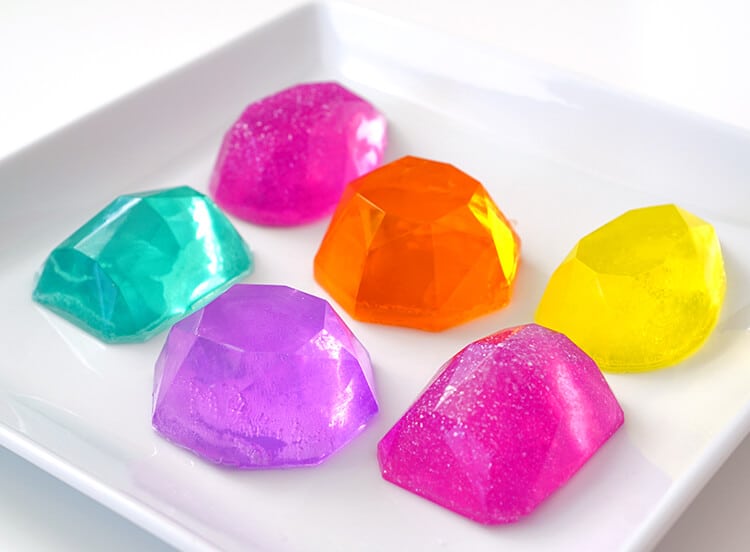 or soap with toys inside like this Lego Soap by The Joys of Boys that encourages extra hand washing for kids to get the toy out of the soap to play with.
Not up for making your own soap? Bee Happy Organic will make them for you including Pokemon Soap, Dinosaur Soap, and Ocean Animals Soap. You can choose whichever one will motivate your kids the most (Pokemon for my kids).
Another easy approach to the toy soap idea is just dropping small toys into soap like this Lego Soap Idea by Kids Activities Blog. Once the soap is gone, the toys are ready to be played with.
Make it Easy
If all else fails you can switch to hand sanitizes when outside of the home (or inside) to make getting hands germ free easy or help your child out, and wash your hands together.
For more ideas please visit the Center for Disease Controls Website.